COMPS - CompTIA Security+
Popis kurzu
The CompTIA Security+ course provides an excellent introduction to the security field and a perfect solution for those whose goal is to become Security+ certified for their job, to prove basic knowledge of security concepts or to gain more knowledge to secure their networks. In this course, students will implement, monitor, and troubleshoot infrastructure, application, information, and operational security.This training will prepare students to pass the current CompTIA Security+ SY0–501 certification exam. The qualification is aimed primarily at networking professionals, but because security is vital to all levels and job roles within an organization, it will also benefit PC support analysts, application developers and senior managers in accounting, sales, product development and marketing.
Obsah kurzu
In this course, you will implement information security across a variety of different contexts.
You will:
Identify the fundamental components of information security.
Analyze risk.
Identify various threats to information security.
Conduct security assessments to detect vulnerabilities.
Implement security for hosts and software.
Implement security for networks.
Manage identity and access.
Implement cryptographic solutions in the organization.
Implement security at the operational level.
Address security incidents.
Ensure the continuity of business operations in the event of an incident.
COURSE OUTLINE
IDENTIFYING SECURITY FUNDAMENTALS
Identify Information Security Concepts
Identify Basic Security Controls
Identify Basic Authentication and Authorization Concepts
Identify Basic Cryptography Concepts
ANALYZING RISK
Analyze Organizational Risk
Analyze the Business Impact of Risk
IDENTIFYING SECURITY THREATS
Identify Types of Attackers
Identify Social Engineering Attacks
Identify Malware
Identify Software-Based Threats
Identify Network-Based Threats
Identify Wireless Threats
Identify Physical Threats
CONDUCTING SECURITY ASSESSMENTS
Identify Vulnerabilities
Assess Vulnerabilities
Implement Penetration Testing
IMPLEMENTING HOST AND SOFTWARE SECURITY
Implement Host Security
Implement Cloud and Virtualization Security
Implement Mobile Device Security
Incorporate Security in the Software Development Lifecycle
IMPLEMENTING NETWORK SECURITY
Configure Network Security Technologies
Secure Network Design Elements
Implement Secure Networking Protocols and Services
Secure Wireless Traffic
MANAGING IDENTITY AND ACCESS
Implement Identity and Access Management
Configure Directory Services
Configure Access Services
Manage Accounts
IMPLEMENTING CRYPTOGRAPHY
Identify Advanced Cryptography Concepts
Select Cryptographic Algorithms
Configure a Public Key Infrastructure
Enroll Certificates
Back Up and Restore Certificates and Private Keys
Revoke Certificates
IMPLEMENTING OPERATIONAL SECURITY
Evaluate Security Frameworks and Guidelines
Incorporate Documentation in Operational Security
Implement Security Strategies
Manage Data Security Processes
Implement Physical Controls
ADDRESSING SECURITY INCIDENTS
Troubleshoot Common Security Issues
Respond to Security Incidents
Investigate Security Incidents
ENSURING BUSINESS CONTINUITY
Select Business Continuity and Disaster Recovery Processes
Develop a Business Continuity Plan
Exam Codes
SY0–501
Launch Date
 October ​4, 2017
Exam Description
The CompTIA Security+ exam will certify the successful candidate has the knowledge and skills required to install and configure systems to secure applications, networks, and devices; perform threat analysis and respond with appropriate mitigation techniques; participate in risk mitigation activities; and operate with an awareness of applicable policies, laws, and regulations. The successful candidate will perform these tasks to support the principles of confidentiality, integrity, and availability.
Number of Questions
Maximum of 90 questions
Type of Questions
Multiple choice and performance-based
Length of Test
90 minutes
​
Passing Score
750 (on a scale of 100–900)
Recommended Experience
CompTIA Network+ and two years of experience in IT administration with a security focus
Languages
English, Japanese, Portuguese and Simplified Chinese
Cílová skupina
This course is targeted toward the information technology (IT) professional who has networking and administrative skills in Windows®-based Transmission Control Protocol/Internet Protocol (TCP/IP) networks; familiarity with other operating systems, such as macOS®, Unix, or Linux; and who wants to further a career in IT by acquiring foundational knowledge of security topics; preparing for the CompTIA Security+ certification examination; or using Security+ as the foundation for advanced security certifications or career roles.
Hodnocení
Organizátor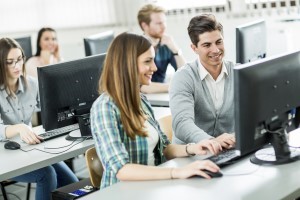 Podobné kurzy
podle názvu a lokality